Home
Security System Installations in the South West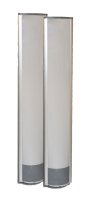 Fire and Intruder Alarms in the South West
APS Fire and Security was established in 1992 with the intention of offering individuals and businesses practical protection of their valuables and personal belongings to grant them peace of mind.
Our customer base has grown steadily over the years incorporating large and small businesses and private individuals as we have built our reputation for quality security system installations in Bristol.
CCTV and Access Control in the South West
We are adding extra services all the time to improve the service our effering to our customers and our long term aim is to become a 'one stop shop' for all your security needs. We undergo external auditing and are always updating our systems to enable us to pass on all of our knowledge and experience to our customers. We will also undertake any staff training required so you can feel competent and able to use all the CCTV systems in the South West that we install. As we will design and customise our systems to suit all our customers' needs, we are able to cater for trade customers as well as small and large businesses, domestic and general public customers. We also specialise in contract takeovers.
We are based in the South West so the majority of our customers are based here. However we also look after larger companies throughout England and North and South Wales. These have included Her Majesty'ss crown and county courts, Excel/DHL, DVLA Swansea and Stratford multi storey car park.

Tagging Systems in the South West
Over the years we've been established, we've grown large enough to cover all your needs while still being able to maintain the personnel touch of a small company. We are proud to provide a fast and friendly service and to have never knowingly been over priced.
We at APS Fire and Security pride ourselves on our attention to detail and personal service over all aspects of our services even though we specialise in Intruder Alarms and Fire Alarms CCTV & Tagging Systems in the South West. We are very well respected in the security industry and provide a range of services which can be integrated into any exisiting security system. We always aim to protect our customers, their families, employees and property, so we adhere to the latest legislations and have external audits completed regularly.
Once installed APS Fire and Security has a dedicated service department providing ongoing routine maintenance of systems and offering a full 24 hour, 365 days a year call out service. Finally you can be sure of your safety as we carry out risk assessments for all our security systems installations throughout the South West.

Call us Now
For all your security needs contact "APS Fire and Security the Best in the South West"
Office: 01179 798330
Mobile: 07831 872031
Fax: 01179 79 8319
You can also email us : info@apsfireandsecurity.co.uk
We look forward to assisting you soon about our security requirments.